History
Wangler Hardware has been a part of the community of Fort Recovery since 1916. For the first 64 years in business, only Wangler family members worked in the store. It is currently a 5th generation family business, still committed to serving customers in this area. We look forward to serving you!
1890
Erhard Wangler opens a hardware store in New Riegel, Ohio.

1906
Fort Recovery's hardware store, owned by Joseph Meinerding, is destroyed when a gun was test-fired, hitting 200 pounds of dynamite. Five deaths result from the explosion, surrounding properties are destroyed and most windows throughout the entire town are shattered.
1916
Erhard Wangler moves his hardware business from New Riegel, OH to Fort Recovery, establishing E. Wangler Hardware on April 1, 1916. Erhard operates the store with the help of three of his children, Cletus, Ursela, and Winifred.

1944
Cletus takes over management and goes on to operate Wangler Hardware with three of his children as employees. Another hardware store, called Fort Recovery Hardware, is located two doors down from Wangler Hardware. This store is owned and operated by Cletus Wangler's father-in-law, Henry Kleinhenz.

1965
Cletus retires and passes ownership to his son, Bill, who continues to operate the store with his children and sister Eileen.
1977
Bill's daughter Patricia Jo (PJ) and her husband Mike Minor take ownership, making it a fourth-generation business.

1992
The opportunity to 'buy out the competition' presented itself, and Mike and PJ take ownership of both hardware stores in town. The two stores were owned by both of PJ's paternal great grandfathers.

1993
Steve Schmitz, who had been an employee since 1987 became a partner in the business. He marks the first owner who was not in the Wangler family, but is heartily welcomed as 'family'.

2001
After operating from two separate locations for several years, the decision is made to build a brand new, 10,000 square foot facility on the south edge of town. The doors to the new Wangler ACE Hardware are opened on April 1, 2001—86 years to the day of original establishment.

2015
After spending eleven years in the lift truck industry, Matt Minor and his wife, Erin, moved back to Fort Recovery from New Orleans to continue as the 5th generation of Wangler Hardware owners.
2016
Celebrated 100 years of family business!
Original location in New Riegel, Ohio
Inside the hardware store in Fort Recovery, Ohio
Location on 127 N Wayne Street, Fort Recovery Ohio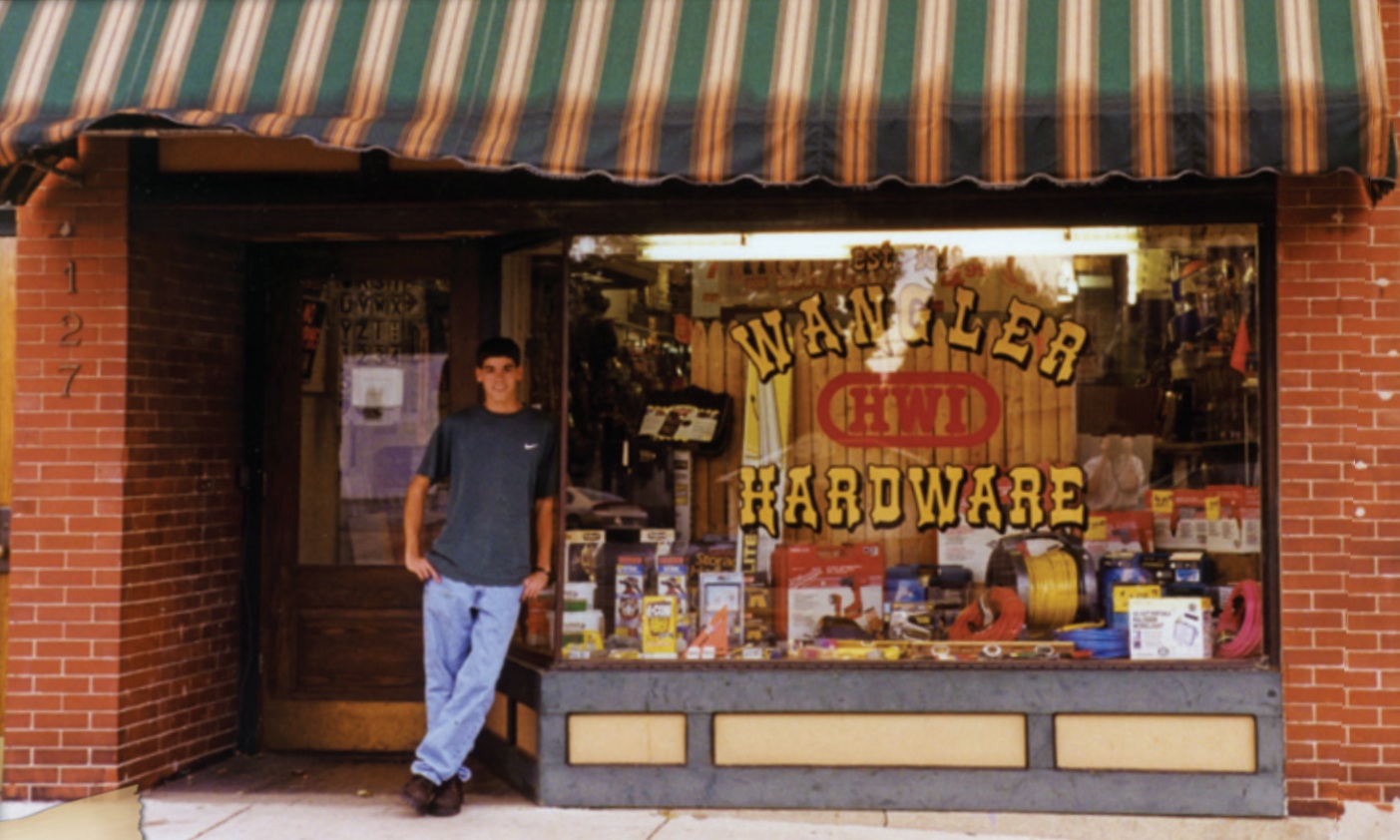 Location at 127 N Wayne Street. This photo shows a 16-year- old Matt Minor, son of Mike & PJ (Wangler) Minor, who will go on to take over the business.
Mike & PJ (Wangler) Minor open the location at 1711 SR 49, Fort Recovery
Matt Minor celebrates 100 years of family business in Fort Recovery, Ohio
Owner
Matt Minor
Matt began working in the hardware store when he was 14 years old. He continued to help part-time through high school and during the summers while in college. After graduating from BGSU with a business degree, he began his career in the lift truck business, spending 11 years working in sales and management for Crown and Caterpillar in Ohio, Louisiana, Mississippi and Kentucky. In June of 2015 he moved back to Fort Recovery and bought into the family the business.
FUN FACT
Matt lived in downtown New Orleans for 5 years while his wife Erin was attending law school at Tulane University. The 'Big Easy' is still their favorite city and a place they try to visit each year.
OWNERs
Mike & PJ (Wangler) Minor
PJ and Mike had only been married a year when they took over her family business at age 26. From then on, it became a 24/7 relationship! Together they built the store into the business it is today - expanding to serve individuals, businesses and farming operations.
They're not always painted blue and red, but they'll do anything to promote a big ACE paint sale!
owner
Steve Schmitz
Steve started working at Wangler Hardware as a sophomore in high school—when he had to ride his bike to work—and has been a mainstay ever since. In 1993, Steve bought into the business to become a partner. He enjoys getting to know all of the customers by name and seeing his "work family" every day.